Have you felt the growing effects of the nuclear skills shortage crisis?
You're not the only one.
Across the industry, energy businesses are experiencing growing pains as their opportunities continue to climb yet recruitment efforts fall short.
With the UK Government following through on their plans to direct £75 million into nuclear power this year (opening the door to an industry boom), we need to find a solution.
How to Solve the Nuclear Skills Shortage Crisis
Even though the NIA discovered that 3000 additional workers joined the UK's nuclear industry between 2021-2022 (bringing the total to 64,509), a persistent issue is present. There's a distinct lack of skilled candidates, which is restricting the rate that sector businesses can grow.
We're all limited by the resources at our disposal.
Truthfully, unless there is an industry wide effort to address the growing skills shortage crisis and make a difference for the years to come, everyone will suffer. The investment getting pledged in our direction today could be rerouted elsewhere, leading to devastating consequences on survivability, job stability, and even profitability.
This year's focus on nuclear energy could quickly fizzle if businesses don't leap into action. Are you ready?
1. Skill Development
As the skills shortage continues to threaten our industry, training schemes must be put into place to combat the impending consequences.
Although it could take 3-5 years for the results to start presenting themselves (due to the complexity of the study required) this is a road that all businesses need to start travelling.
If you currently employ low-skilled workers that show a lot of potential, you could save yourself a lot of pain in the future by investing in their growth.
A concrete learning and development scheme would ensure that you have access to Tier 1, Tier 2, and Tier 3 staff members – covering all the bases.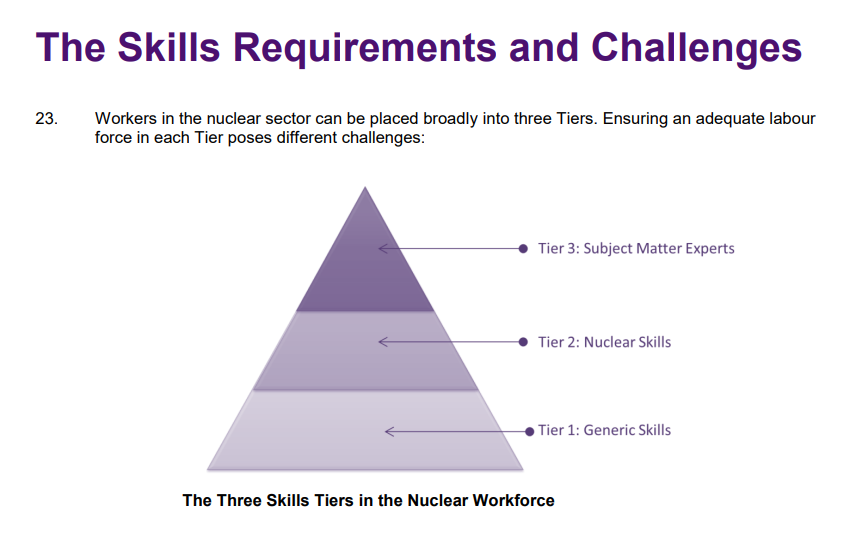 2. Career Progression
Our existing nuclear workforce is an asset and, to protect yourself against the skills shortage, you need to retain the workers you already have.
By combining skill development with the promise of job promotions (encouraging workers to seek additional education), you can provide your employees with an exponential career path that secures their loyalty for years to come.
This way, if you're not in a position where you can fund the training yourself or offer on-the-job learning, you can motivate your employees to study in their own time in exchange for an eventual pay rise and title increase.
3. Boosting Mobility
Although some specialist roles are needed on a full-time basis year-round, the biggest demand for skilled workers comes from the construction of a new project.
This is when thousands of jobs need to be filled.
Therefore, we need to broaden our horizons and start encouraging qualified candidates to be more mobile - particularly on an international scale.
Rather than competing for the same small pool of talent locally, businesses can opt to work with a broader range of contractors who have unique but useful backgrounds.
4. Talent Attraction
Even though they won't have direct industry experience, there's a whole world of skilled employees out there… we just need to convince them to come to us.
Offering competitive salaries and attractive benefits is a large part of this, but so is effective marketing. We need to improve the perception of working in the nuclear industry or risk succumbing to our own flaws.
A recent report from the NEI Magazine shows that job satisfaction across the sector is currently sitting at 62%. This is a concerningly low amount that needs to be addressed if we want passive candidates to make the leap.
To fix this, businesses must look inwards and focus on improving employee wellbeing in the workplace to make the industry more attractive. Then, they can look to publicise the benefits of working in nuclear energy and convert interest into applications.
5. Smarter Recruitment
While providing training should be a priority for all businesses in the nuclear industry, it is a long-term investment that'll take years to come into effect.
What should you do when you need skilled employees instantly?
Well, to make the most of today's opportunities, you'll have to be smarter with your recruitment and attract talent from far and wide.
We suggest…
Step 1: Identifying your Employer Value Proposition.
Step 2: Building a strong employer brand.
Step 3: Establishing reliable external communication channels.
Step 4: Networking with skilled candidates to increase awareness.
Step 5: Sharing job opportunities through multiple avenues.
Step 6: Promptly reviewing applications according to a specific deadline.
Step 7: Answering questions honestly, without delay.
Step 8: Prioritising a strong candidate experience above all else.
Step 9: Making attractive job offers that are in line with market expectations.
Scantec's team of expert, specialist, recruiters can aid you with this. We have our fingers on the pulse of the nuclear workforce, solving all your talent needs.
Recruiting Through Scantec
At Scantec, we prioritise finding the perfect fit for your business.
Our recruiters take time to consider the potential of each applicant in order to select someone that will thrive in their new role and embrace every challenge that comes their way.
If you are currently hiring and would like further advice on identifying the best employee for the job and then accelerating their career through training, get in touch with Scantec today.